Landstar has announced the winner of the 2020 Landstar Deliver to Win Truck Giveaway sponsored by Comdata. Landstar independent owner-operator Steve Wheeler of Greenville, North Carolina, won a 2020 Freightliner® Cascadia® 126 in the annual giveaway on Sept. 18, 2020.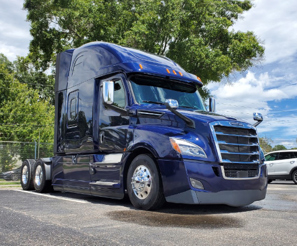 For the second time this year, Landstar gave eligible owner-operators a chance to win a brand new truck in a giveaway held virtually via Zoom video conferencing. Wheeler was one of four finalists in the Deliver to Win Giveaway, in which all of the nearly 10,000 owner-operators leased to Landstar are automatically entered. In July, Landstar Million Mile Safe Driver and Roadstar® Bobby Jordan won the Landstar All-Star Truck Giveaway.
During the Deliver to Win virtual event, the winner was determined after each of the four finalists selected the box they believed would make them the winner of the giveaway truck. Wheeler guessed correctly to win the pearl blue Freightliner Cascadia spec'd with a suite of safety systems, fuel efficiency features, a Detroit™ DD15®, 14.8 L 455HP engine and a Detroit DT12™ automated transmission.
"I've never been lucky in my life and you have to be incredibly lucky when your name is picked out of 10,000," said Steve Wheeler. "I am so excited, this is such a blessing. I am incredibly blessed to have won this truck."
"Congratulations to Steve Wheeler. There is no better time than National Truck Driver Appreciation Week to present an independent business capacity owner with such a life-changing prize. We're proud to continue this tradition during these unprecedented times of a global pandemic," said Landstar President and CEO Jim Gattoni, who hosted the giveaway. "Our thanks to Comdata for their contributing support of the giveaway as this year's sponsor."
Every year, all eligible owner-operators leased to Landstar automatically earn entries in the Deliver to Win Truck Giveaway contest by delivering loads safely during the contest period. Throughout the year, Landstar owner-operators also have multiple opportunities to earn additional entries to increase their chances at winning the truck, including monthly contests held via DeliverToWin.com. After the contest period ends, entries are gathered into a pool of names for the finalists drawing, with all eligible truck giveaway finalists selected by a computerized random number generator.
A recording of the 2020 Deliver to Win Truck Giveaway held Friday, Sept. 18, 2020, is available on Landstar's social media channels.