Landstar Agent Mike Thompson and Business Capacity Owners Brian and Lisa Clevenger made headlines when a certain F-117 Nighthawk was photographed during transport for Lockheed Martin Skunk Works® in 2019.
The Nighthawk's move to the Ronald Reagan Presidential Library was even featured as a cover story in The Road to Success® magazine.
So, when the opportunity came to plan the logistics for another Lockheed fighter jet, Thompson, the agency owner of D&M Transportation Inc., felt like he shouldn't brag about the move. However, his customer Air Zoo thought the arrival of its new F-117 nicknamed Shaba really was something to boast about.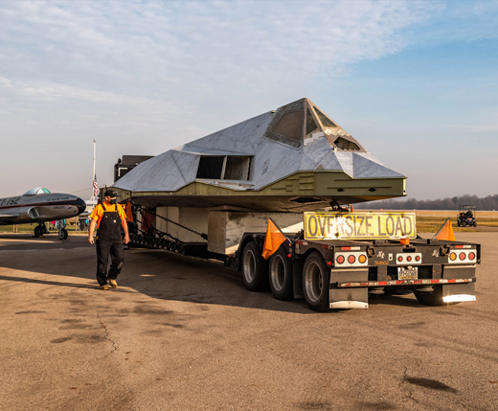 Affectionately called the Kalamazoo Air Zoo by air enthusiasts, the Smithsonian-affiliated aerospace and science museum in Michigan had been waiting more than a year to announce the transport of the aircraft.
"I really can't believe the time has finally come, to sign for and start this exciting journey back to Southwest Michigan with the first operational Lockheed F-117 Nighthawk released for public display east of the Rockies," Air Zoo President and CEO Troy Thrash announced via press release November 30, 2020. Additionally, Thrash explained he would join the three Landstar BCOs Brian and Lisa Clevenger, and Zach Lindler to document the plane's transport from Tonopah, Nevada.
By Dec. 2, Air Zoo's social media channels were buzzing with excitement as Shaba began its 2,000 mile-long haul. The museum shared daily social media updates about the BCO trucks hauling the F-117 fuselage and wings through photos, videos, and live commentary.
With the plane's wings secured to his trailer, Landstar BCO Zach Lindler was the first truck to arrive at Air Zoo. "We are so excited to welcome the first truck carrying the wings of the F-117 Nighthawk Shaba to Kalamazoo!"
Air Zoo continued to document the project's progress via social media from the unloading of the wings to the arrival of the 100-foot long, 20-foot wide fuselage.
Nine days after leaving Nevada, the Clevengers made the final turn toward the Kalamazoo Air Zoo. In parade-like fashion, the truck was greeted by eager onlookers, waiting to catch a glimpse of the well-traveled stealth fighter jet.
"Because of the professionalism and experience of Landstar BCOs, customers like Air Zoo have enough confidence in our services that they invited the community to watch as the Nighthawk arrived," said Landstar Agent Mike Thompson. "I know I said that I didn't want to brag too much, but yes, transporting Shaba was something to brag about."
The restoration of Shaba, the decommissioned Nighthawk F-117 (tail No. 817), is expected to take a year. The public is invited to view is the restoration while at the Air Zoo Discovery Center. To learn more about Shaba's journey and watch the video footage of the Landstar BCOs' trek to Michigan visit www.AirZoo.org.
Watch Shaba's journey to the Air Zoo, and the ongoing restoration of the F-117 Nighthawk: